Return to All Vendors | Vendors: Register for Associate Membership →
Double Dips Ice Creamery
Website: http://www.doubledipsicecreamery.com
Email: doubledippicecream@gmail.com
Address:
11019 N Johnson Road
North Platte NE 69101
Phone: (308) 520-7422
About Our Fair:
We are a family owned business that specializes in selling delicious old fashioned hand dipped ice cream and offer a variety of treats made with our famous premium grade traditional hand dipped ice cream in 14 different flavors.
We cater to the sweet tooth that's inside of everyone!
We guarantee you will love the "Double Dip" experience.
Click on a photo below to enlarge it.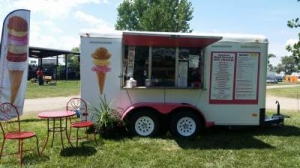 Return to All Vendors | Vendors: Register for Associate Membership →